"Offers a ray of hope that our divided nation can find common ground. If you share that hope and want to expand your own thinking about security, READ THIS BOOK."
— Jody Williams, Nobel Peace Prize Winner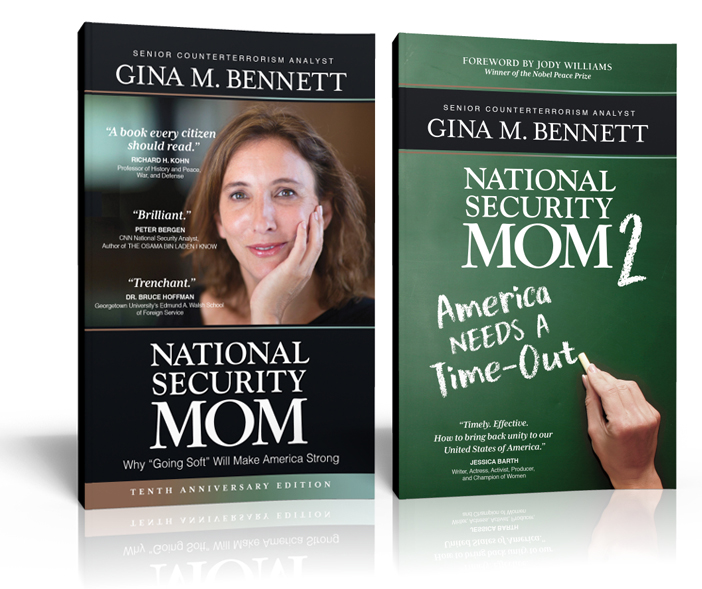 The original NATIONAL SECURITY MOM (Oct. 2008) by 30-year active-CIA officer Gina Bennett compared parenting principles to keeping our nation secure: teaching children to tell the truth, ignore bullies, choose friends wisely, clean up, etc.
AMERICA NEEDS A TIME-OUT (Oct. 2019) extends Bennett's analogy to the five steps of a parenting "time-out" to reflect on, and correct, the direction of our democracy.
Book two includes letters from young women at girlsecurity.com, with a foreword by Nobel Prize Winner Jody Williams.
ABOUT THE AUTHOR
Gina Bennett is a member of the CIA's Senior Analytic Service, and long-standing member of the Senior Analytic Service currently on assignment as the Senior Counterterorrism Advisor in the Directorate of Strategic Operational Planning in the National Counterterrorism Center. She is a seasoned counterterrorism specialist who authored the 1993 report that warned of the growing danger of Osama Bin Laden and the extremist movement he was fomenting.
Gina was featured in the Showtime documentary, Spymasters, the HBO documentary, Manhunt, and in the PBS documentary, Makers: Women Who Make America in their episode on women in war for her role as a trailblazing woman in the counterterrorism field. She has been featured in the cover story of Newsweek's issue on "Women of the CIA" in 2016 and in a previous Newsweek article for her role as a female pioneer in the targeting; and in a variety of media for her 2008 book, National Security Mom.
Gina teaches Ethics in Intelligence as an adjunct faculty member at Georgetown University in the Security Studies Program of the Edmund A. Walsh School of Foreign Service and at the George Washington University in the International Policy and Practice program at the Elliot School of International Affairs. She is also a founding board member of Girl Security, an educational program to familiarize elementary-to-high school girls in national and international security issues. She is a single mom of five children.